This year, I'm thrilled to join in on the waffle fun here at Aloha Flavor for #WaffleWeek2015!  Kim of Feed Me, Seymour, a blog that should be on your must read daily list, hosted a fun time last year and this year she decided to make it an annual event with some of my favorite bloggers.  You are going to want to make all of the waffles at the end of the post – just reading the titles made me ravenous!
I had to bring something that was tropical inspired to the waffle party and these Coconut Flour Waffles with Spiced Pineapple Syrup were perfect!  Not only are they a healthier option for you, but they have this fabulous tropical flavor, especially with this Spiced Pineapple Syrup drizzled over the waffles.
I have been using coconut flour in a few recipes and I have to warn you – you only need a little bit so the flour to liquid ratio might look off.  I played with a recipe from Epicurious and tried to go with less eggs but it didn't work.  So, after seeing some other recipes with 8 eggs and a few attempts, I found the perfect ratio.  Yes, I know – 8 eggs can be a bit much (hello, protein power anyone?) but trust me when I say that they are absolutely worth each and every bite.  The coconut flour absorbs the liquid like a sponge so you don't want to let this batter rest too long.  To add a bit more coconut love, I added a dash of coconut extract but I also think it would be delicious with some almond extract as well.  The Spiced Pineapple Syrup comes together in a flash and will essentially be done by the time the last beeping of the waffle iron.
For your next weekend brunch, whip up these protein packed Coconut Flour Waffles with Spiced Pineapple Syrup.  It will be a family favorite!
Let's get cooking!
Gather your ingredients
Just a little bit of coconut flour
Time to fire up the waffle iron

Let's whip up the spiced pineapple syrup
Now this is a fabulous way to start a weekend!
Shall I make you a plate?
Coconut Flour Waffles With Spiced Pineapple Syrup
These Coconut Flour Waffles are perfect for brunch and drizzled with Spiced Pineapple Syrup, these waffles take a rich flavorful spin. These aren't your ordinary waffles!
Ingredients
For the Coconut Flour Waffles:
8 eggs
½ cup of melted butter, cooled
2 tablespoons of maple syrup
1 teaspoon of vanilla extract
¼ teaspoon of coconut extract (optional)
½ teaspoon of salt
½ cup of coconut flour
¼ teaspoon of baking powder
¼ teaspoon of baking soda
For the Spiced Pineapple Syrup:
½ cup of light brown sugar, packed
½ cup of pineapple juice
¼ cup of crushed pineapple, drained
¼ teaspoon of cinnamon
½ teaspoon of vanilla extract
Instructions
To make the Coconut Flour Waffles
Heat up the waffle iron.
Using an electric mixer, whip up the eggs so that they are thoroughly mixed.
Add the melted butter, maple syrup, vanilla extract, coconut extract (if using) and salt to the egg mixture and mix together thoroughly.
Add the coconut flour, baking powder and baking soda to the egg mixture.
Mix thoroughly so that everything is incorporated. It should thicken up in a few minutes.
Add the batter to the waffle iron as you normally would and make the waffles.
While the waffles are baking, make the spiced pineapple syrup.
To make the Spiced Pineapple Syrup:
In a heavy bottomed small saucepan, add the brown sugar, pineapple juice and crushed pineapple. Stir together so that the brown sugar is dissolved.
Whisk in the cinnamon and bring the mixture to a boil over medium high heat.
Reduce to a simmer and simmer for about 10 minutes until the mixture has thickened slightly.
Drizzle over the coconut flour waffles and enjoy!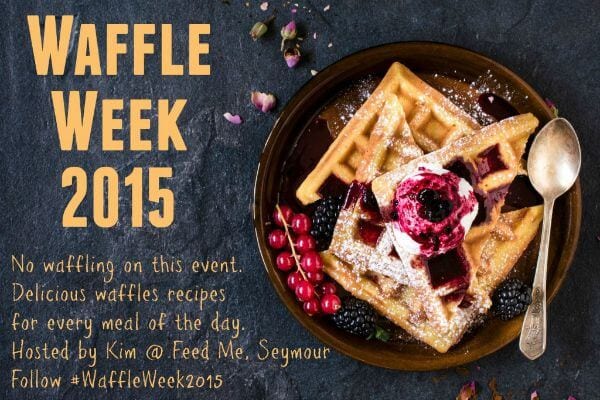 Appet-affles
Breakf-affles
Waffl-ides
Dessert Dish-affles
[FTC Disclosure: This post contains affiliate and/or referral links which help offset the cost of hosting this site. However, as always, my opinions are 100% my own]
Comments
comments